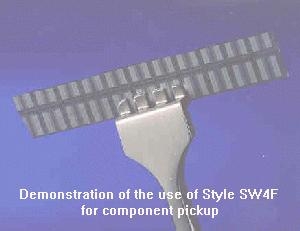 Wafer
We offer a number of different tweezers styles, mostly from the SPI-Swiss collection. SPI-Swiss wafer tweezers are conceived, designed, quality tested and packaged in the USA but are manufactured in Switzerland, taking advantage of the most advanced Swiss manufacturing technology. All are handmade, one at a time, and exhibit outstanding quality yet are still affordably priced.
Selection of the right style:
This is never an easy question to answer since so much depends on personal preference and previous experience. However any of the Style 3 or 4 wafer tweezers would work well for the handling of up to 6 in. (150 mm) wafers. These same styles are able to lift 8 in.(200 mm) wafers held in the vertical orientation.
Most SPI-Swiss wafer tweezers are available in either antimagnetic stainless steel or PTFE coated antimagnetic stainless steel. Not everyone can use PTFE in their process but for those who can, the PTFE coating will not only extend the useful lifetime for tweezers being dipped in acids or other corrosive liquids, but will reduce the rate of metal ion contamination from the tweezers slowly dissolving in the aggressive liquids