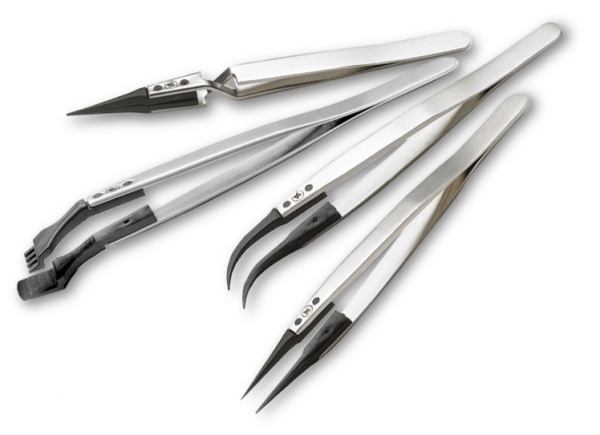 CarbonFiber Tweezers
SPI Supplies Carbon Fiber tipped tweezers come in two materials and five styles. The tweezers is composed of an anti-magnetic and anti-acid stainless steel body with ESD CarbonFiber tips.
Tips made from PEEK (polyetheretherketone) reinforced with carbon fiber are excellent not only for general use, but in particular for mechanical and high temperature applications. The tip is very hard and rigid with high tensile and flexural strength. It also has a very high wear resistance and high heat capability.
Tips made from PVDF (polyvinylidene fluoride) reinforced with carbon fiber are best used for chemical handling. They provide excellent chemical resistance to most aggressive substances (mineral and organic acid, etc.) and solvents (hydrocarbons, alcohols, halogenated, etc.). They are also resistant to halogens and most acids (HF, HNO3, HCl, etc.).

Items in CarbonFiber Tweezers