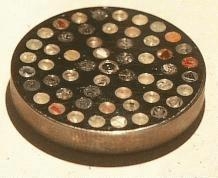 Design Your Own
We are still in the process of enhancing the DYOS tool for our new website. Until we are complete, please refer to the information on our old site. Once you have selected the mount and standards, please return to this website to search for the selected products. Or use the Express Order option. You may also contact our technical support staff if you need help with your selections.
Designing a personal standard using the SPI Supplies "Design Your Own Standard" (DYOS) system can be more complicated than selecting an item from most other parts of the SPI Supplies product line. In order to minimize confusion we suggest you read carefully and understand the content and instructions we have provided so that you can construct the standard that would have the greatest possible value to you. Follow the two steps described below.
Step #1
Become familiar with the DYOS Tool. This icon appears at the upper left of every page in this section. Its different components are:
Step #2
Decide whether you want A Ready-to-Use Standard (A) or Loose Items (B).
(A) Completely finished, ready-to-use standard
We will make you a completely finished, ready-to-use standard, with each chosen item mounted, polished, carbon coated and electron beam labelled. You will need to go to the Instructions page to select the type of mount you want and the items you wish to put in it. The individual items can be chosen from any of the standards accessible from the DYOS home page. These items are then mounted according to the plan you have chosen. They are polished, carbon coated and identifying labels are applied to each one.
In keeping with policy of SPI Supplies of incorporating a device for calibrating beam currents into each "Off-The-Shelf" mount, we recommend that you should include a Faraday cup as one item in your selection.
(B) Loose Items
You can purchase individual standard items as loose grains for mounting in your own laboratory. You will receive one grain large enough to mount with care, and a data sheet. Be aware, however, that because of scarcity, not all standards are available in the loose form.

Click any of the layouts to see an image of a real mount for the different layouts which are available for custom mounting.
Subcategories in Design Your Own