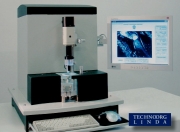 Gentle Mill 3
You have spent many hours in the cutting, mounting, polishing and preparation of your sample and now there are the final steps before your examination. It is in these last steps that extra care must be taken to ensure that the area of examination is free from artifact and distortion. The Gentle Mill 3 is designed to produce such a sample and is the final step of an Ion beam workstation for preparing the highest quality TEM/FIB samples.
Artifact-Free Sample Preparation
The Gentle Mill 3 system (Model IV8) allows the production of damage-free samples at low-energy ion bombardment and provides a clear opportunity to study the real nanostructures in synthesized and natural materials in all fields of technical sciences and materials research. It is designed for researchers who want to prepare the highest quality artifact and damage free XTEM, HRTEM or STEM samples. These ion mills are also suitable for quick thinning of dimpled or thin (< 25 µm), planar, mechanically polished samples.
State of the Art Low-Energy Ion Source
The Gentle Mill 3 ion beam workstations operate with an outstanding patented hot-cathode low-energy ion source. The low energy of the ion beam minimizes the surface damage and ion beam induced amorphization. The unique construction of the ion source allows high ion beam current densities. All ion gun parameters, including accelerating voltage and cathode current, are controlled automatically by a digital feedback loop, but they can always be changed manually during the sample preparation procedure. The initial values of the ion source parameters are set either automatically or manually and are continuously displayed on the computer screen.