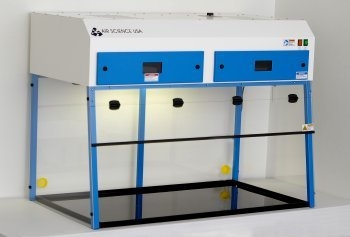 Fume Hoods
Introduction to the Economy Ductless Portable Fume Hoods:
Many workers need protection from toxic and otherwise hazardous materials exposure but don't need a hood with "all the bells and whistles". And in order to satisfy the need for a low cost, yet needed quality fume hood, we offer the "economy" products. They provide the same high protection to the operator and because of their novel construction, they can even be positioned over a laboratory sink or other apparatus. And most important of all: They are all ductless and portable and can be moved from room to room or lab to lab, wherever they happened to be needed the most.
Description of the Economy Hoods:
The Economy hoods give the worker a high level of safety and protection against exposure to hazardous substances wherever routine work is being done. The units are known for their "low noise" operation because they recirculate instead of exhausting expensive conditioned and/or heated air into the outside atmosphere.
Range of sizes:
The Economy hoods are available in three different sizes, from 23" long (front working length) to 48".
Subcategories in Fume Hoods