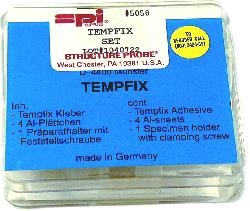 Tempfix Mounting Adhesive for SEM Applications Complete Kit, Includes 1.5g Plastic
Availability In Stock
| | |
| --- | --- |
| Quantity | Price/EA |
| 1 to 9 | $55.55 |
| 10 and up | $50.00 |
Tempfix™ Mounting Adhesive for SEM Applications Complete Kit, Includes 1.5g Plastic:
A thermoplastic and conductive adhesive resin for mounting powders and small particles without the fear of small particles "sinking" into the adhesive. The product is especially useful for the mounting of dusts, pollen, crystals, critical point dried biological material, just to name a few examples. Tempfix also has applications for use in conjunction with AFM, however one should use caution when using the product this way.
Tempfix is adhesive at 40° C; melting point at 120° C. The product can also be used as an embedding medium. Other useful information if you are thinking about using Tempfix in your work: Characteristics, Accessories required for handling, and Instructions for Use.
Note that each Tempfix "kit" contains the following: A) Two Tempfix adhesive sticks, totalling about 1.5g adhesive per kit, B) 4 aluminum squares, 10 mm on a side, and C) one specimen holder with a single clamping screw.