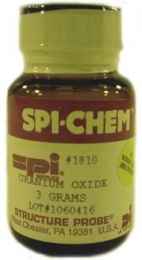 SPI Chem Uranium Oxide Chips, 3 g, CAS #1344-57-6
Availability Out Of Stock
OK-SPI
SPI Chem™ Uranium Oxide Chips, 3 g, CAS #1344-57-6:
Stoichiometric formula: UO2
Chemical name: Uranium (IV) oxide
Appearance: Dark brown to black chips, with some associated "fines"
CAS #1344-57-6
NIOSH (RTECS) No: 1010387US
M. P.: 2500°C
Density: 10.96
The SPI-Chem Uranium Oxide Chips are for high contrast shadowing exhibiting a very small grain size, but not quite as small as what is usually obtained using platinum/carbon (Pt/C) methods. But superior contrast is normally achieved, a property that makes it ideal for use when thin layer steps are being measured for height. For example, measuring the step heights of polymer single crystal lamellar structures is often times a bit easier with uranium oxide. The uranium oxide is dispersed with a small amount of Parlodion® resin, which acts as a binder and has been specifically formulated for evaporation from a metal boat or tungsten basket. We believe that this material in "chip" form is far superior to the more normally supplied free flowing powder. The chips, we believe result in a more user friendly material and one for which inhalation possibilities are greatly reduced (relative to a powder).

We would like to make two more comments about this material, the first one being that we are almost embarrassed at the high cost per gram we must charge our customers. A substantial amount of the cost is regulation driven, that is, some very expensive regulations must be followed and compliance is vigorously enforced, in order to keep any of this material from falling into the wrong hands.

We would also like to point out that any uranium used in any of the products offered by SPI with high uranium content be produced strictly with "depleted" uranium, that is, uranium in which the radioactive isotopes have been removed. And while there still is some very low level of radioactivity remaining, we feel such exposure is only marginally higher than the exposure one gets during a few minutes of exposure to the sun on any bright and sunny day. In any case, in order to lower the risk of any exposure of powder particulates to workers, we believe the product in the "chip" form represents a far more responsible solution to this problem than the use of a powder.